How To Run a Toyota VIN Lookup Online
Running a Toyota VIN lookup online has never been easier. With a multitude of online public record resources you can lookup any 17 digit VIN, or vehicle identification number, almost instantly. Toyota VIN lookups have always been popular and now more than ever since there are so many Toyotas on the road. A Toyota VIN lookup can reveal a lot of information about your Toyota that include vehicle specs, vehicle history, recalls and safety issues and license plate information.
How To Decode Your Toyota VIN Number
Each of the 17 digits on a Toyota VIN represent a piece of information about the vehicle. Depending on the digit, this may reference where the vehicle was manufactured, vehicle type, what the engine and drive-train are as well as a multitude of additional information referenced below. There are a multitude of Free VIN Decoders online that you can use to breakdown the VIN information of your Toyota.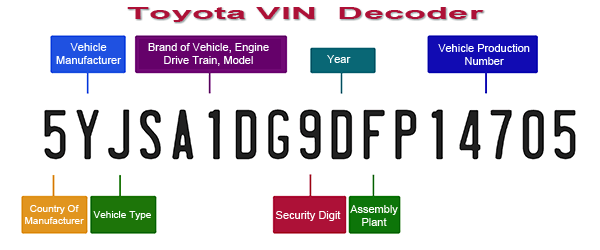 Where Do I Find the VIN on My Toyota?
The VIN on your Toyota is usually located in a few places. It should be listed on your dashboard, on the driver's side door well, on the engine and on the frame of the vehicle. You can also find the Toyota VIN on the registration or title of the vehicle that is issued by the DMV. The easiest place to locate it is on your dashboard, driver's side, and you can view this through the windshield.
How Do I Check My Toyota Service History?
You can check your Toyota service history by visiting the Toyota.com website and searching for owner service history. There you can either sign in, if you already have an account with Toyota, or sign up for an account. Once you're all signed in you can search your vehicle by VIN number to view your Toyota service history that was performed at a certified Toyota dealership. If the service on your Toyota vehicle was not performed at an authorized dealership then you won't be able to see your service history here.
Are There Any Recalls On My Toyota?
There are a couple of ways to find out if there are any recalls on your Toyota vehicle. You can visit the Toyota.com website or visit the National Highway Traffic Safety Administration website Recalls.gov to run a VIN search on your Toyota to determine if there are any recalls or safety issues you should know about.  You can also report a safety defect on your Toyota to the Recalls.gov website.
Which Toyota Models Are Being Recalled?
2010-2016 Toyota 4Runner Recall
2019 Toyota Camry Recall
2003-2013 Toyota Corolla Recall
2009-2013 Toyota Matrix Recall
2004-2005 Toyota Rav4 Recall
2002-2006 Toyota Sequoia Recall
2011-2014 Toyota Sienna Recall
2003-2006 Toyota Tundra Recall
2006-2012 Toyota Yaris Recall
2007-2012 Lexus ES350 Recall
2010-2017 Lexus GX460 Recall
2006-2013 Lexus IS250/350 Recall
2008-2014 Lexus IS Recall
2012 Lexus LFA Recall
2002-2010 Lexus SC430 Recall
2008-2015 Scion XB Recall
It's good practice to visit the Recalls.gov website regularly, especially if you purchased a new Toyota, those might not be on the list above. You can also contact the Toyota dealership where you purchased your new vehicle for updates on any known recalls for your Toyota.
---
Toyota VIN - Frequently Asked Questions
How can I find out if my Toyota is being recalled?
To find out if your Toyota has been recalled you can visit the government website Recalls.gov and run your 17 digit vehicle identification number, or VIN, through their database. You will be able to instantly find out if your Toyota has a recall.
How do I run a free Toyota vehicle history report?
Typically vehicle history reports will cost you a nominal fee however, you can run a free Toyota VIN search using online public record resources, like SearchQuarry.com. All you will need is the 17 digit Toyota vehicle identification number found on your registration, dash board or door panel to run this report.
---