Queens County Court Records Search
It is a mandatory requirement of the law system that courts maintain a record of all the files, transcripts, exhibits and verbal content shared in a case. This record is maintained in all the superior and local courts of all the counties in all American states. Quite recently, the records have been made available to the public, in person as well as through electronic sources. Use the above form to begin your Queens County Court Records Online.
Queens County Court Records In Person
Queens County court records are provided by the Queens County Clerk?s Office. In order to get a certified copy of a Supreme Court Paper and Exemplification, you will have to conduct searches, either in person or through a link provided by the Search Court Records Department. The case indexes from 1992 till date are made available through the link but the ones prior to the mentioned year can be accessed through a written search which is conducted by the staff or a visit in person to the concerned department.
Records on divorce decrees are also available at the Search Records Department of the Clerk?s office. However, it is allowed access to be designated attorney or one of the concerned parties only. Anyone having a signed notarized letter or an affidavit can also have a copy of the divorce document.
The Queens County Clerk?s office also maintains records on money judgment/satisfaction of money judgments which can also be provided to the public upon specification of the type of money judgment/satisfaction of money judgment, whether it is for NYC tax and parking violations or a particular type of court judgment (civil, family, criminal, etc.). The records on property liens are also maintained by the Queens County Clerk?s Block and Lot. All kinds of building loan agreements, foreclosures or sidewalk violations are accessible through Queens City Register Block and Lot Number Search by calling the Queens County Clerk?s Block and Lot Office at (718) 298 0612.
You can mail your written requests at Queens County Clerk?s Office, 88-11 Sutphin Blvd., Room 106, Jamaica, N.Y, 11435.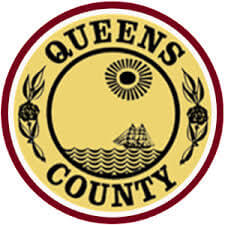 ---
How can I get a copy of my Queens county court records?
To get an official copy of your Queens county court records you can visit their website and make an request online to have your court records mailed to you. This request can also be made in person or over the phone. If your Queens county court records are mailed to you it will take a few weeks to be processed by mail.
Is my Queens county court record public?
With few exceptions, most Queens county court records are public domain via the FOIA of 1966. This means that anyone can lookup court records in Queens county.
---