Searching Oakland County Warrants
Quite certain you have heard about warrants, but you just need a bit more info about them?   Do you need to find out how to look up if one is outstanding for you in Oakland County, Michigan?
It is helpful to ensure you have an understanding of the warrant status for yourself or those you know in order to avoid surprises if you encounter the police for any reason.
What is an Oakland County Warrant?
An Oakland county warrant is an order that is drawn up by a county official who is authorized to do so. Warrants typically identify the crime for which an arrest has been authorized, and may restrict the manner in which an arrest may be made.
Oakland County Arrest Warrants vs Bench Warrants
An arrest warrant is usually issued by a judge against someone, ordering law enforcement agencies to actively be on the lookout for such a person and make possible attempts to arrest. Unlike a bench warrant, where is it possible that the defendant and even the law enforcement agency are not aware of the existing bench warrant; the opposite is the case for an arrest warrant.
Once an arrest warrant has been issued, the police begin active search and surveillance, interrogations will be made, and many persons will be apprehended in a bid to get compelling information about the person that is to be arrested.
An arrest warrant is usually issued for cases considered criminal, and in such instances, the police can enter into the person's house and employ every means possible to arrest the person noted on the warrant.
Oakland County Bench Warrants
A bench warrant is usually issued when a person has failed to appear in court on a specific date after receiving a notice or order to appear. In this regard, an Oakland County Bench Warrant, therefore, refers to a warrant of the court ordering the arrest of someone for failing to appear before the court. What this means is that law enforcement agencies won't actively be on the lookout for such a person, but if perhaps the person plays into the hands of law enforcement agencies, the person will be arrested.
For example, if the person engages in a brawl or violates traffic rules, and the person is stopped and discovered that such person has a bench warrant, the person will be taken into custody.  Therefore, it is even very possible that a defendant is not aware that there is an active bench warrant.  Whatever circumstances you find yourself ensure you quickly reach out to a lawyer.
How to Find Out If You Have a Warrant in Oakland County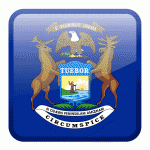 You must know if you have a warrant in Oakland County or perhaps how to find out if you have. This is because you will not like to be caught by surprise if this minute you are doing something and the next minute the police are all over your trail.
You can easily search the Oakland County Website and a 3rd party background record websites, such as SearchQuarry.com.
Warrants may be issued by local law enforcement agencies or the Oakland County law enforcement agency. Finding out if you have a warrant simply means looking up Oakland County Public records to know whether or not there is an active warrant that has been issued for a particular person.
A warrant search in Oakland County will give you details on whether there is an outstanding warrant for arrest in Oakland County, Michigan for a particular person.
There is always extensive information and records on a warrant with the police; you can easily walk into the Sheriff's office seeking relevant information regarding any outstanding or active warrants. The Sheriff's department is situated at 1200 North Telegraph Road Building 38E, Pontiac, Michigan 48341. From the Sheriff's office, you may be directed to the department of the public service division.
You can also head to the administrative or records division. These court services divisions and sub-agencies of the Sheriff's office are entrusted with maintaining communication for Oakland County and disseminating vital information about warrants to the general public.
Be prepared to pay a small fee to retrieve the information you need.
It will interest you to note that anyone can look up another person's warrant since they are public records, and anyone can view these by virtue of the Freedom of Information Act.
---
Oakland County Warrant FAQs
Can I lookup an Oakland warrant anonymously?
Yes, using resources like SearchQuarry.com you can lookup anyone's warrants and criminal records anonymously online.
---