How to Run a Hyundai VIN Lookup
A Hyundai VIN lookup is just like any other vehicle VIN lookup that has been manufactured in the last 40 years. All modern vehicles come with a 17 digit vehicle identification number that reveals all the manufacturer information about the vehicle. A Hyundai VIN lookup can be performed easily online with a multitude of free VIN decoder resources. All you need to do is find your 17 digit VIN and the rest is easy. Every Hyundai VIN is unique so all you have to do with most any VIN decoder is enter the digits and hit search. The results will tell you everything you want to know about your vehicle or a used car or SUV you're interested in purchasing.
How to Run a Hyundai Vehicle History Report
A Hyundai vehicle history report is simple to run as well. Many people interested in a Hyundai vehicle history report are looking to purchase a used Hyundai car or SUV. A vehicle history report will usually cost you a few bucks but it's well worth it if you are verifying a used Hyundai that you want to purchase. This information included in this report may include owner history, accidents, liens on the vehicle title, safety issues and recalls. There is a lot of valuable information that can be gleaned by running a vehicle history report that can save you a lot of grief by uncovering unknown, or undisclosed issues that can cost a lot of extra coin down the road. Even though Hyundai is a reliable brand, all makes and models of all manufactures have had recalls and safety concerns with their vehicles.
Hyundai Safety Concerns and Recalls
Hyundai is a well established brand of vehicle that has had a great track record for safety. They offer a wide range of makes and models from the affordable compact cars and SUVs to the luxury sedans that have become competition for some of the high end brands of cars and SUVs. With millions of Hyundai vehicles manufactured and thousands of components installed in each vehicle, there is a high probability there will be an occasional issue. These safety concerns and recalls can easily be found on the government website SafeCar.gov. This is a free publicly available service that informs the public about any reported or known safety issue and recall. All you need to do to use this service is visit the website, enter the VIN number and search. You can also search for recalls by make and model of the vehicle with a couple of clicks.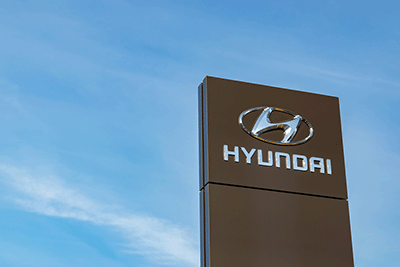 The History of Hyundai in The United States
Hyundai started manufacturing cars in South Korea in 1967 through the Hyundai Motor Company. It wasn't until 1986 that Hyundai started selling cars in the United States. At their entry point into the United States they focused on fuel efficient economy cars and then in 1988 they introduced a midsize car called the Hyundai Sonata. Then by the 1990's they were selling automobiles by the millions to the United States. Since those early years, Hyundai has been successful in creating a well respected brand in the United States and it continues to be one of the major manufactures of a large share of vehicles on the road today. They have a very competitive automobile line from luxury cars to high end SUV models.
---
Hyundai VIN - FAQs
How do I decode a Hyundai VIN number?
All you need to decode a Hyundai VIN number is obtain the 17 digit alpha-numeric VIN from your vehicle. The VIN is stamped in multiple locations on every Hyundai as well as being documented on your vehicle registration card and vehicle title
---