How To Run a Mercedes VIN Lookup
Performing a Mercedes VIN lookup is a simple online process that only takes a few moments. First you will need to locate your Mercedes VIN number, which is a 17 digit alpha-numeric that can be found in your car or SUV in multiple places. It will also be located on your vehicle registration, vehicle title or auto insurance card. The VIN, or vehicle identification number, is a granular description of your vehicle's features and manufacturing information that is unique to each vehicle. Mercedes includes a multitude of information that can be easily decoded with the VIN number. You can also run a vehicle history report with a Mercedes vehicle identification number if you're interested in purchasing a used car or SUV that will give you specific information about any recalls, owner history, accidents and more. This is a low cost way to insure that the used Mercedes you're interested in is a good value.
How Do I Find the VIN on My Mercedes?
You can find the VIN on your Mercedes in multiple locations. On all modern Mercedes vehicles, manufactured in the last 30 years, the VIN will be stamped on the driver side dashboard, the driver side door frame and on the engine and transmission. You'll also be able to lookup the Mercedes VIN information on your vehicle registration card, the Mercedes vehicle title as well as your auto insurance policy card. If all else fails, you can run a reverse license plate lookup to find out what the VIN is on your vehicle. It's a good idea to make sure that all the VIN numbers check out in all these locations, especially if you're looking at purchasing a used Mercedes-Benz. If there are any inconsistencies then it should raise a red-flag that something isn't right, and potentially fraudulent.
Running a Mercedes Vehicle History Report
Most people that are interested in running a Mercedes vehicle history report are looking at buying a used car or SUV. This is a very important step to take before signing any loan documents or handing over any cash as a vehicle history report can illuminate any potential issues that can take the value out of the used Mercedes These issues can include accidents, recalls, safety issues, how many previous owners and if the vehicle has a clean title. A vehicle history report will cost you a few bucks but it's a best practice procedure before buying any used vehicle that can potentially save you a lot of headache and money down the road. Another great resource to finding out more about that used vehicle you're interested in buying is the NHTSA.gov website. This is a free government resource where you can lookup any recalls or known safety issues with the vehicle's VIN number. It's a great and easy to use webs resource that has no hidden agenda. Simply visit the site and enter a VIN number, or you can enter the make and model and year of the vehicle to find out if there are any concerns. It's also best practice to run a Mercedes VIN lookup through these free government resources, as well as running a vehicle history report, before making that used car purchase.
A Little History About Mercedes Motors
Mercedes Motors is one of the premier German brands that sells millions of high performance and luxury cars and SUVs in the United States. The Mercedes-Benz brand has been around since the 1800's and is referred by historians as being the first internal-combustion engine vehicle ever manufactured. Of course other vehicle manufacturers such as Ford have a profound impact on the automotive industry. as Ford invented the assembly line for automotive manufacturing which made mass production a modern method for making cars and trucks. In today's modern automotive industry, Mercedes-Benz is looked at as producing high end sports and luxury cars and SUVs that appeal to the upper and middle class mostly as there is a hefty price tag on most of their makes and models.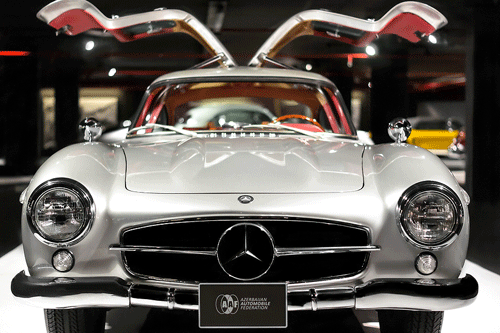 ---
Mercedes VIN Number - FAQs
Can I run a Mercedes VIN lookup for free?
Yes, running a Mercedes VIN lookup is typically free with many online vehicle record websites, including the NHTSA.gov. You will need the 17 digit VIN number from your Mercedes car or SUV to be able to accurately decode the VIN number as each vehicle has a unique vehicle identification number and no two are alike
---